Apple Acquires "C3″ Technologies- A Swedish 3D Mapping Company?
C3 Technologies is a popular Swedish 3D Mapping Company which has been sold out to some tech giants in July. Saab AB (the major stake holder for C3 Technologies) has declared last month that it had fully vended out 57.8% stake in the company for approximately $150 million US dollars. Meanwhile, C3′s website has been completely wrapped though some of it footprints are smiling their on the web in the form of cache only.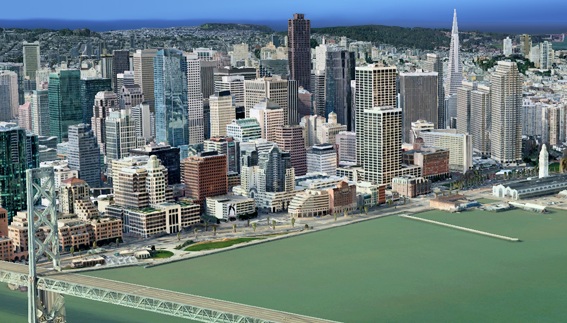 Nyteknik.se just reported that the buyer company for C3 technologies belongs to the western world.
We have promised not to say who the buyer is. But there are no Chinese or other Asian companies. It is a company in the Western world, says one of Saab today after the deal is worth 1 billion.
If the report is true then one can easily guess that the company might be one of the big technology giants like Apple, Microsoft and Google.
In January at CES 2011, C3 Technologies earned an massive popularity it demonstrated its technology on both Android and iOS platforms. The company uses previously top secret missile targeting technology to attain its extraordinary 3D mapping effects.
Technology Review  comments on C3's 3D mapping effects in the following words;
C3′s models are generated with little human intervention. First, a plane equipped with a custom-designed package of professional-grade digital single-lens reflex cameras takes aerial photos. Four cameras look out along the main compass points, at oblique angles to the ground, to image buildings from the side as well as above. Additional cameras (the exact number is secret) capture overlapping images from their own carefully determined angles, producing a final set that contains all the information needed for a full 3-D rendering of a city's buildings. Machine-vision software developed by C3 compares pairs of overlapping images to gauge depth, just as our brains use stereo vision, to produce a richly detailed 3-D model.

"Unlike Google or Bing, all of our maps are 360° explorable," says Smith, "and everything, every building, every tree, every landmark, from the city center to the suburbs, is captured in 3-D—not just a few select buildings."
Here is a promo videos by C3 Technologies demonstrating how the technology may be used on an iPad:
You can also watch some of their remarkable videos including a 3d map of Hoover Dam, and Flythrough of Oslo.
At this particular moment, we are not sure about the company that has bought C3 technologies, however the complete removal of C3′s website hints that the buyer wants to provide app developers an SDK for its use. The only possible clue available yet is a sentence described by one of the Nyteknik.se commenter "happen to know it was Apple!"
We think Apple is the best guess. Why? Because Apple has already admitted to be working to launch their own mapping service and have licensed map data from various companies to get rid of its dependence on Google's mapping solutions currently being used on iOS devices. Apple has also acquired another mapping company Placebase and has been aggressively hiring top class professionals to introduce its own mapping service, pretty able to compete Google's mapping.
Via: Macrumors
To Get Yourself Updated with the Latest & Hottest Tech News, Join Us On Facebook or Follow Us On Twitter or Check Out Our Google+ Account …